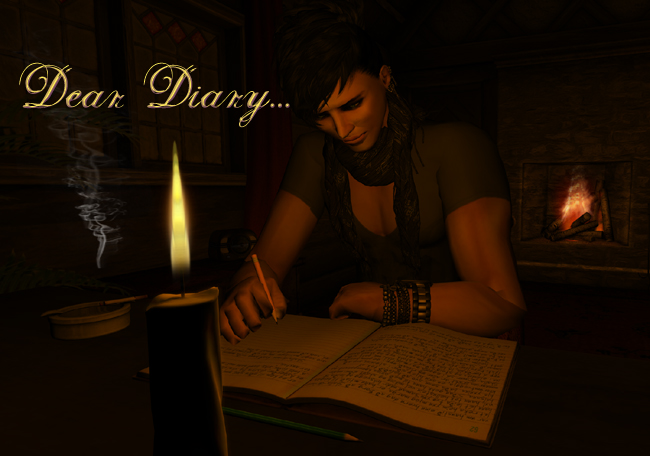 Dear Diary,
It's a day for cuddling. It's been a frustrating day, with a lot of packet loss issues that I've reported to my internet service provider. At times, webpages have taken over a minute to load, and trying to build anything in SL has just been a non-starter. And, when that happens on a day that you actually feel creative, it's stifling and plain old bloody annoying.
Daros and I have been hard at work on the ground in Jindalrae. Since we won that big parcel of land recently, we decided to start building a few things down there. We often get random avatars just teleporting in, and before now there's just been a couple of our homes rezzed there (mainly the big steampunk tower, and the MYST-based 'Cleft' that Daros dug into the ground. I thought I'd share some images of what we've been putting into the sim.
First up, on the Tor at the north end, Daros has rezzed and furnished The Looking Glass's gorgeous Castle Ruins Lodge.
Looks fabulous in daylight, but even better in a dark, evening Windlight preset.
Further down, just below the Tor, I've rezzed another Looking Glass build: the Ancient Ruins.
In the middle of a stand of forest (Studio Skye's Enchanted Tree Tunnel set) you'll find a pool, and beyond that… something in a clearing.
It's Senzafine's 'La Gitana' Gypsy Musician Set.
To the right of this, an imposing gate (Botanical's Japanese Torii Gate) rises above a set of steps that lead down to the new (as-yet-undecided!) land.
Across the way, a bridge leads to a house where a long-expected party is being arranged. (In other words, the most perfect replica of Bag End! It's Nakama by Funatik.)
Inside, though, it's oddly quiet. Mainly because we've not furnished it much! XD
Down in the Cleft, there's a waterfall and pond, and strange lights circle around the tree.
Walk past the grain store (stop and pet Flame the cat!) and the library, past the open-air reading room and Atrus's bedroom and you'll find a tunnel.
At the end there's a darkened cave entrance. Dare you go in?
*gives you a shove* Go on, ya wuss! Inside you'll find an edited version of the Domicile Ruined Temple (made by moi).
Yep. Jindalrae's starting to come together now.
Meanwhile, I'm snoozing blissfully on the couch, being cuddled by my gorgeous boy and listening to the storm on the Rainy Mood website.