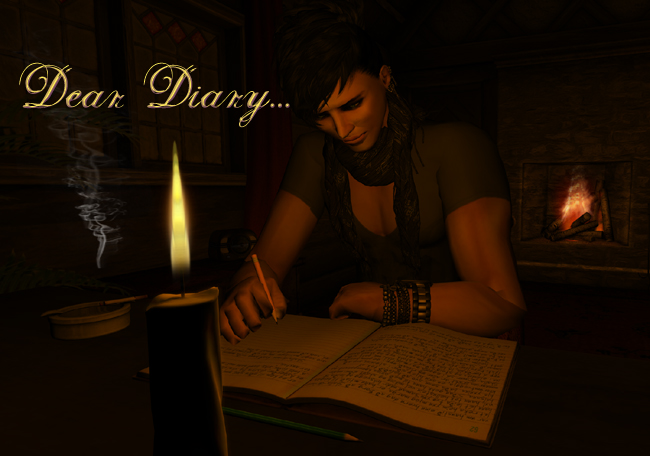 Dear Diary,
Isn't it funny how something that happens soon after you log into SL can colour your whole session inworld? I just had to log off and put Fleetwood Mac's Albatross  (my bulletproof blood pressure-lowering song) on my mp3 player, because of a baaaaad login session.
I went inworld to try and put together a new look for the blog. I dropped a fair few L$ at Skin Fair yesterday and was going to blog some of the items I'd bought. Dance music blasting through headphones, I logged in… to find a customer query waiting for me. A slightly-odd one, but one I could satisfy in a few minutes nonetheless. I dealt with it, set the custom item out for sale in a special skybox away from the main store, sent the (offline) customer an IM with the SLurl and set to work stripping off and trying on new purchases in my photoshoot area.
The minimap alerted me to the fact that the customer had logged on and arrived in the sim, but no purchase came through. Ten minutes later, with me halfway through putting together an outfit (having unboxed items that were already in boxes within boxes – grrrr!) the IM came through: "I'm here, but I can't find it."
I realised he'd got caught in the fixed landing point we'd had to install at HASRA for the Destination Guide, so I apologised, explained about the landing point, and told him to take the teleport again. He was an old avatar with a legacy name, so I figured he knew that taking a teleport a second time while still in the sim would override a fixed landing point with routing anywhere.
Nope. He disappeared off the minimap and then reappeared about five minutes later in the same place.
Okay, it was going to be one of those  transactions. The only way I was going to get him to the skybox would be to teleport him there myself, so I changed out of my half-finished outfit (without saving it) and teleported to the skybox. I then sent him a direct TP offer.
No reply.
Five minutes went by.
I asked if he got the teleport offer.
Five more minutes went by.
I teleported direct to him. He was standing at the landing point, so I rezzed the purchase box right in front of him, sized up so he couldn't miss it.
"Ignore that teleport offer," I said in IM. "I'm right behind you now and I've rezzed the purchase box in front of you."
No answer. He was clearly AFK.
FINALLY, he turned around. "Hi."
*deep breath*
"Hi there. It's right behind you."
"Is it [what he wanted]?"
"Yes, it is."
Another couple of minutes went by, and finally he purchased them.
After he'd left, I deleted the purchase box and went back up to my photoshoot skybox. Once again, I started stripping off the outfit and trying to remember what I'd been haflway through wearing before the customer had called me away.
Half an hour later, I gave up. Nothing was going right. I tried this jacket and those pants. Nope. How about that earring? Ugh, no. That makeup doesn't go with this skin, and why the hell did I buy those shoes?! AAAAAARRRRRRRRRRGHHHHHHH!
I changed back into another outfit and logged off. That customer transaction had set the tone for my login session, and the tone was sheer frustration.