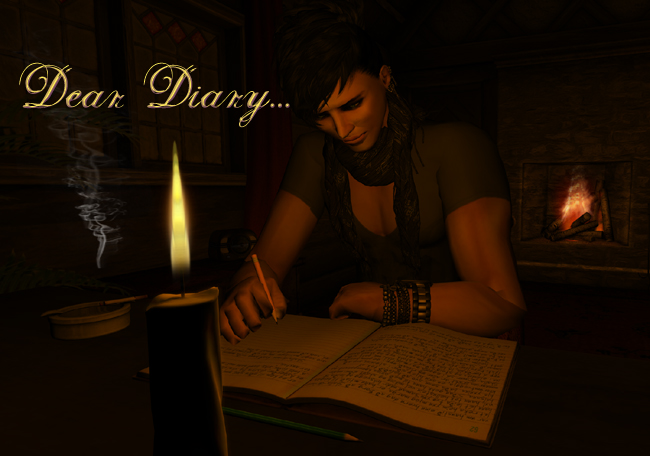 Dear Diary,
My Christmas never really begins until the week before the actual day itself; in fact, the opening weekend of that full week. So that means yesterday and today. The turkey is now in the freezer, the food and booze stocks are ramping up, the Christmas cards are fluttering through letterboxes and being left on desks at work. And, today, I finally blinged out my RL house. Yes, I brought the decs down from the loft a couple of weeks ago, but this weekend has always been the one when my house turns into an explosion in a tinsel and bauble factory. Good taste? Not when it comes to shiny and sparkly things ;-)
Here, have a rare RL pic from me: a macro shot of my Christmas tree. I'm not exactly a traditionalist when it comes to colours…
Russet shiny glitter-edged roses, cointreau apples, and coppery snowflakes. My kind of tree ;-)
I've been decking-up in SL, too. GB City had its municipal switch-on of lights last night, and the tree also went up (my old 2011 Patron 'Psychedelic Fir' tree, still looking gorgeous).
I found these brilliant free one-prim lights in my inventory (both strings and window-surrounds like this one) so the windows and door frames got glitzed up in our main home: the steampunk tower. Here's my writing nook:
The lights are great little freebies from El Patio. Find 'em here on Marketplace.
And, last night, Daros and I hung our stockings by the fire, with the greatest of care ;-)
I have to say it: decking out for Christmas is one of my favorite things to do in SL. I'm usually itching to start doing it at the end of November, but I force myself to wait until this weekend.
I haven't made anything special for the store this year, save a freebie mesh Christmas tree that you can pick up inside Domicile or at the GB City landing area.
Fireplace and other decor not included! (Those are from Apple Fall, if you want 'em.) Here's a better shot of the tree from the ad board:
Plus, I've switched out the lucky boards at the GB City landing area. Gone is the steampunk collection of stuff and back in are some wintry items:
And I've thrown last year's humungous Christmas gift – the Winter Skybox – into the Midnight Mania board. 50 spanks of the board's chilly blue bottom and it's yours :-)