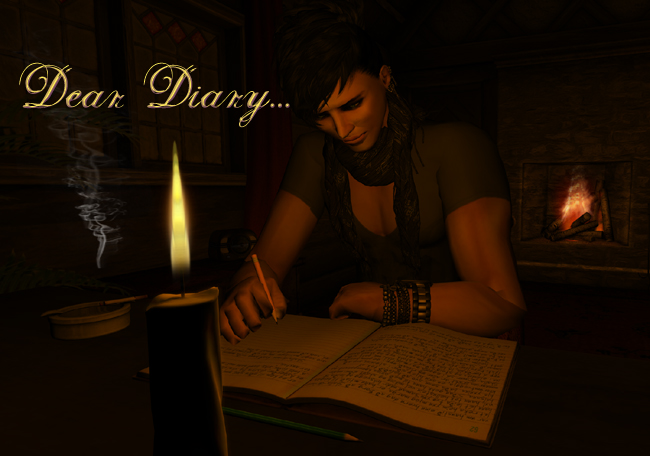 Dear Diary,
I have just spent a truly maddening  (and expensive) two hours fucking around with mesh heads, head appliers, mesh bodies, and body appliers, as well as skins and all kinds of associated crap like that. At the end of those two hours, I was SO FUCKING FRUSTRATED that I was all but screaming at the computer, and eventually logged out of SL, fuming.
So… what happened?
Warning: A lot of text incoming…
We'll begin with my finding a gorgeous male skin that I wanted to try. The only problem was, this skin only  came with an applier for a specific mesh head (not TMP, since I refuse to consider that one, regardless). No separate skin and no Slink mesh body applier. However, the same store did  have a full set of general male skin appliers, which – since there was only one body applier set – I assumed would work with all  of their skins. This seems to be similar to many other skin stores: they have just one set of body appliers, and the head appliers (or system skin faces) are the parts that are actually different. It's a good business model, and it means that a store's customers would only need to purchase one set of body appliers, and can then buy either the standard skins or head appliers that they wanted from a new release.
So I picked up the demo of the Slink mesh body applier and the demo for the mesh head. I then picked up the demo of  the mesh head. And then the fury began.
The mesh head appliers do  come with a standard skin, but only for the body. No Slink body appliers. So I wore my Slink body and used the all-in-one Slink mesh body skin applier from the skin store. I then tried on the Omega version of the mesh head, applied the skin head applier and… there's a very visible dark join at the neck. Great.
The head applier didn't come with eyebrows, so I picked up the demo of that, too. Tried them on, and all together the mesh head with its skin and brow appliers looked good enough for me to think, "Okay yeah. I'll get it. It's not perfect around the neck, but eh, I can use something else there." Since I don't wear mesh heads all the time, I figured that if I wanted to wear that mesh head, I'd wear a collar or choker or scarf or something to cover the join. It's something I do quite a lot, to cover little imperfections.
So I went ahead and spent an eye-watering L$2500 on the mesh head. While I was there I thought I might as well be in for a penny, in for a pound, and also purchased the Slink body appliers, extra expressions HUD, and a set of complementary vampire teeth for the head, because one of the other head applier skins was pale and delicate, so I figured this could make a great pale vampire look. All told, a full purchase of L$3650 or so. Ouch.
I got them home and – out of interest – I tried on the 'pale' colour of the mesh head's own appliers (both head and body). What this store calls 'pale' turns out to be what most other skin stores would call 'deep tan'. Oh, joy.
Well, let's try the original gorgeous skin applier, then. It applied perfectly to the full Omega version of the mesh head. Looked great. At last! Ka-ching! Might as well purchase the eyebrow appliers, too, because the skin applier doesn't include them. And let's get those Slink mesh body appliers, as well. I liked two tones, so that's two head appliers, one all-in body applier, plus eyebrow appliers. Total purchase: L$1497.
And then… more problems. The eyebrow applier – which worked on the demo head – doesn't work on the full mesh head. I checked several things. Yes, I'm using the Omega-specific version of the mesh head, and the brows are for Omega. I tried all three options (brow, makeup, whole head) and it refused to apply. OK then, let's look at the HUD for that Omega-specific mesh head.
Attach HUD, start clicking through brow options… and find that almost every single damn thing  you might want to use doesn't have an option on the Omega-specific mesh head HUD. O-kay. Now what?
I tried purchasing the OMEGA Systems installer for that mesh head. Installed Omega, and tried again. Still nothing. The brows just wouldn't apply. I relogged. Tried a different region. Nothing.
*snarl*
Breathe, Skell. Breathe. You've only wasted a total of L$5200 or so. That's (*eyeroll*) all.
I'd purchased one other skin (in two tones) from the same store. Loved the skin, then found out the Slink body appliers I'd already purchased (which were the only  ones in the mainstore) didn't work with that skin. I had to purchase individual body appliers (for L$200 per skin tone) for that specific skin, which are on Marketplace only. Also, that skin only came with a TMP mesh head applier.
By this time, I am so fucking frustrated that I'm at the point of almost defenestrating my computer. I see this SO MUCH these days. A skin store might do one or all of the following:
stop selling standard skins altogether and focus only on one mesh head applier (usually TMP), so that people who have purchased their other skins and mesh body appliers (but don't use TMP heads) are left out in the cold. At least two skin designers, in whose stores I have spent tens of thousands of L$ in the past, and whose older skins I have worn almost exclusively for years, have now moved to only creating for TMP heads and Slink body. No system skins for those of us who won't use TMP heads. I see countless beautiful skin ads by those designers, and then I realise that oh; it's for TMP head only. Another lost sale for them.
have different skins on offer, each one specific to a different mesh head (and, invariably, the only skin I love is the one for TMP, which I refuse to use)
not have matching head and body appliers (eg: Omega or Slink body appliers and only TMP head appliers)
separate out each new release to get as much money from customers as possible: system skin (no brows; they're a separate purchase), Slink body appliers, mesh head appliers (again, no brows; they're a separate applier) so that someone with only a Slink body will need to buy the system skin just for their head (usually the most expensive option), the Slink body applier, and the brow  tattoo layers. Whereas people with mesh bodies and heads only have to buy the cheaper head, body, and brow appliers.
My sartorial darlings, I railed against mesh heads for a long time, but by god I have tried my damndest to like them, despite that. But this is not the first time I have been so thoroughly frustrated by the confusing lack of choice in the male skin market when it comes to mesh heads and their appliers, that I am about ready to simply give up on them for good.
Seriously, fuck it. I'm done with mesh heads.
ETA: (Several days later) Okay, I'm a stubborn fucker and I refuse to give up. I finally got the damn thing working. Eyebrows are on (although I can't wear any makeup, because it removes either my eyebrows or my hairbase, but still, the mesh head actually works and looks good. FINALLY.)