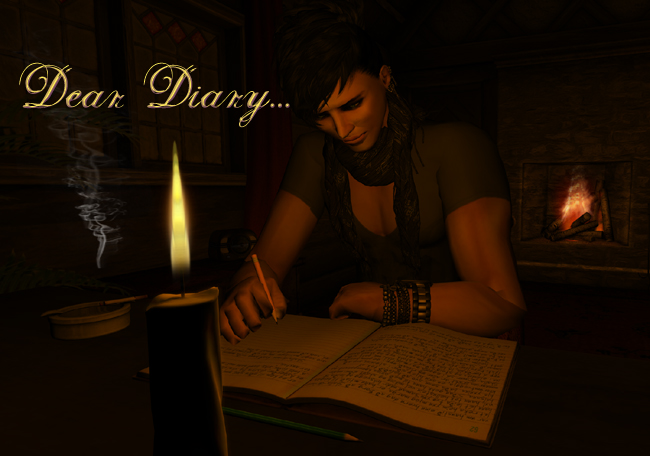 Dear Diary,
Since this is the last weekend in 2013, the arse-end of the year as it were, I've been doing some maintenance work on the blog over the past couple of weeks, viz. –
There are now sharing buttons on each post. Pimp my pixel arse, why dontcha? ;-)
There's a 'like' button on each post (WordPress, not Facebook)
I now have a full Review Policy linked in the sidebar. Yes, it's detailed. You know me by now: garrulous bastard.
I've linked my recent Flickr posts in the sidebar (since many of them don't make it to the blog) and there's also now a Subscribe by email option, also in the sidebar.
I also really need to sit said pixel arse down inworld and get stuck into some serious inventory maintenance. I've been in the habit, for most of 2013, of creating new folders for each major purchasing day (not just the occasional 'here and there' thing) so that I can keep track of stuff. However, with a new year looming I'm already finding it nigh on fucking impossible to find anything, since there are at least 25 of those folders and – while my memory for what I actually have  in my inventory is very good – my memory for where the hell everything actually is… isn't.
Another thing I need to work my way through is my Received Items folder. Holy shit, is that ever a mess. I promise not to become an inventory maintenance bore through 2014, but I suspect that's going to take a lot of my focus in the early weeks. Or months. I have 100k of stuff. Aiya.
My basic filing system is solid. If I find my snapshots folder filling up, I whip out the copy of my Kinex Texture Organiser that I keep solely for snapshots and I file them away, then delete the inventory copies. The added bonus of that thing is that you can wear it as a HUD, so – if you need to find one snapshot (or texture) – you don't need to rez it. Plus, it's expandable (oh, joy!) It's one product that I will always recommend to anyone who has an excess of textures and/or snapshots, as it's worth its weight in gold. Or L$. Whatever. Go buy one ;-)
Note: Try to rename your snapshots before filing. If you don't, then whatever you do: don't use the 'dupe scan' option on the organiser, otherwise it will weed out all snapshots with duplicate names. If you stood in one place and took multiple different snapshots, you'll lose all but one of them.

Update: Mea culpa. Apparently it sorts dupes by UUID, so you're safe there. Phew!
Something rather neat that I spotted on Flickr today was this post by Zib Scaggs, owner of the Zibska jewellery store. It initially caught my eye because I thought it was the upcoming 52 Weeks of Color challenge, but in fact she'd just used a random colour generator (this one) to choose 52 individual colours 'for her own amusement'. I kind of liked that idea, specifically to use as inspiration for maybe making one new item each week with a specific colour theme. So, I had a go myself. These are the first four colours that came up, so – if I can find the time and inspiration – these will be my colours for January 2014 (for making stuff, not for the fashion blog posts!)
You might think those two bright greens are a bit, well, lurid. I guess they are, but it's not as if I haven't created things in those colours before. 2012's New Year gift was a limited edition spring skybox in exactly those colours:
If you think that's lairy, wait until you see February's colours…
Lastly, I'm going to do a meme of my own in my next post. I'm not generally one for summarising my year inworld (for one thing, unless I write stuff down as it happens, I usually forget it!) but friends and I used to have fun with what's known as the iTunes Meme at the end of each year, so that'll be coming in the next post.
See you in 2014!
(Oh, who am I kidding. Like I won't be making at least two more posts before then…)