When it gets cold in real life, many residents head for the beaches in SL. But when it gets cold in real life, I dress for the weather in SL. And hopefully there are a few other beings out there who enjoy Nathan W. Pyle's wonderfully observant Strange Planet cartoon series, and who will get that title as soon as they see it. (If not, read to the end of the post.)
I picked up this long coat by Ascend at the last Men's Dept event, alongside the cheap as hell jeans fatpack by Butterscotch and the hair by Wings. And—since yesterday was icy and snowing in my RL neck of the woods—I felt in the mood to Activate Christmas™ both in SL and RL. The real life tree has been put up and blinged to the max, and I've been decorating in SL, too.
Did you expect something a little more stylish and a little less… well… cosy? Nah, I love warmth and comfort in both worlds, so even though I have multiple home locations rezzed out, the old tower that comprises my main home is always going to be decorated in browns, ochres, and warm light.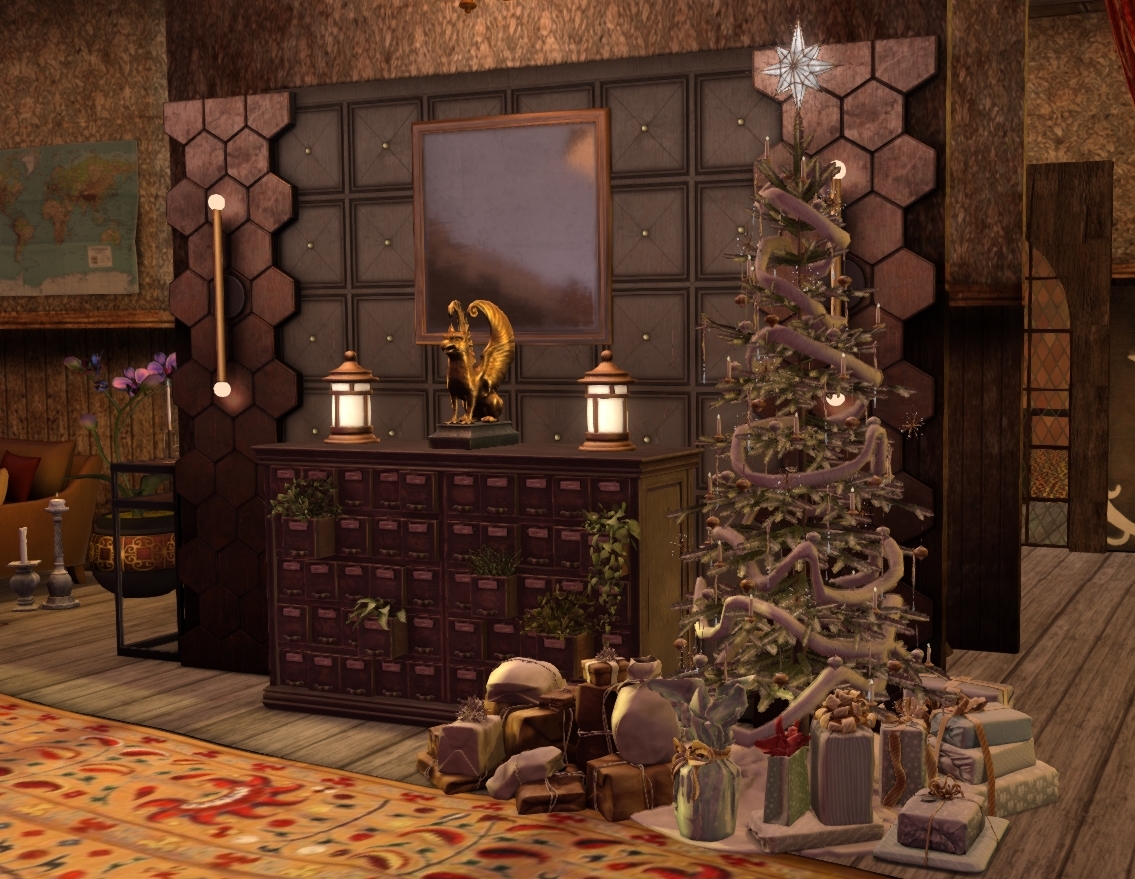 As to these antique Christmas cards, I've had them for years and still put them out each December. I used to collect antique cards in real life, so these make me smile when I rez them inworld.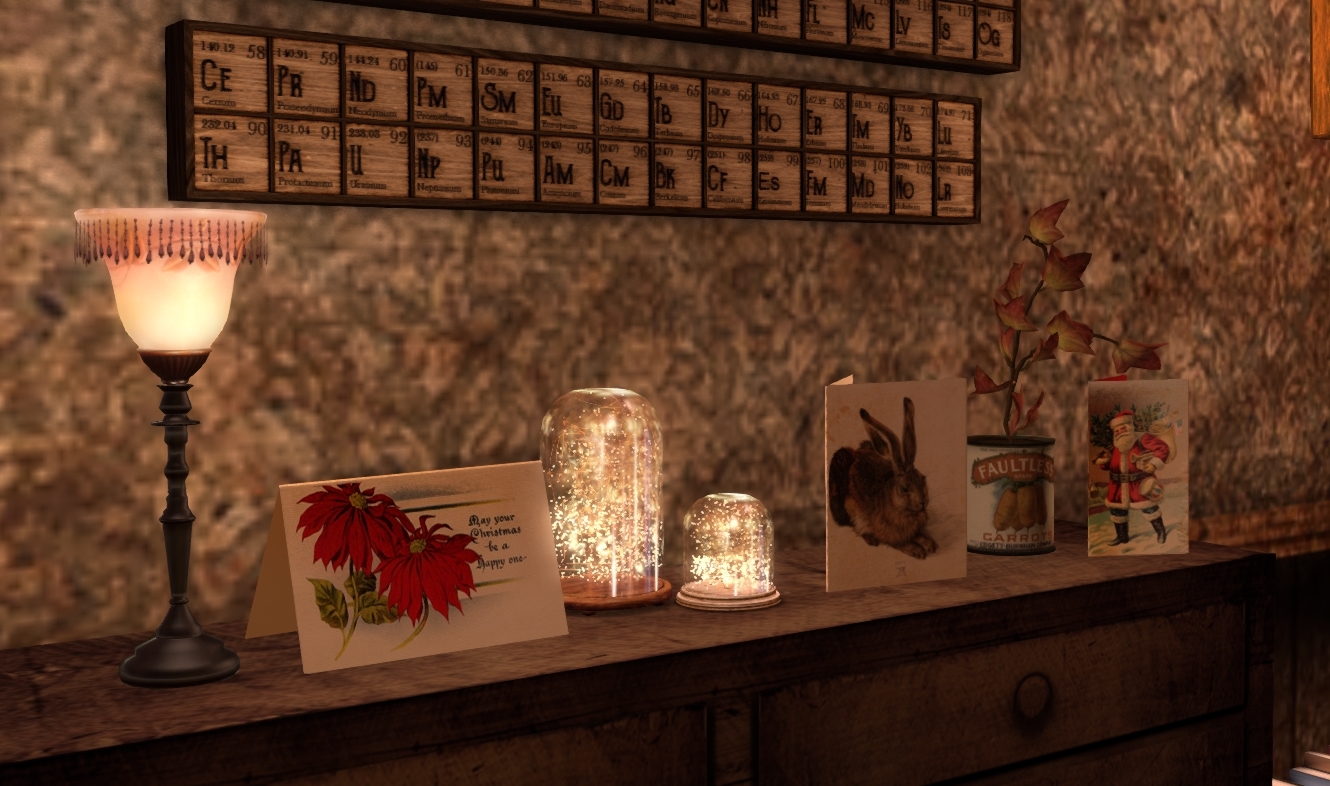 The tower is not where I shot the fashion images for this post, though. That honour goes to POST's gorgeous old Hammars Stuga home, which was my favourite prize from the Cold Winter Nights Hunt, way back in 2013. I've had it rezzed out on a sky platform ever since I got it, flanked by Studio Skye's Enchanted Forest. Every year I change the trees with the seasons, so today was the day to switch them to their winter raiment, and start the snow falling from my trusty old Best Weather rezzer.
Inside the Hammars Stuga there's a roaring fire, a comfy couch, an old wireless radio, and a writing desk. It's a place where I like to go when I want to write in real life. Even if I can't actually see SL on screen while I type, I like to be present in that cosy place in front of the fire with the snow whirling down outside. A while ago I was thinking how nice it would be to actually write in SL and see my words appear on Skell's laptop screen in real time, and I wondered how the hell I could do that, since I can't exactly stream Word inworld. It might be possible with Google Docs and Media on a Prim, so I'll try some experiments with that (although, of course, I'll use a throwaway Google account to log in when I try that, because I'm not risking the chance of accidentally leaving Skell's account logged in for someone to discover).
Yeah, I had alpha issues between that hair and the trees, but these shots were worth the absolute bloody conniptions they were causing me ;-)
It's probably not escaped your notice—especially if you follow me on Flickr—that I've been somewhat quiet of late. Brief explanation: I was made redundant in August as a result of my last employer being hit hard by a severe downturn in business caused by COVID-19. Early in November I started a new job. It's incredibly rewarding, and something of a sideways shift for me, but dear bloody god is the training for it mentally taxing. It's intense, and a ridiculous amount of stuff to take in, but I'm thoroughly enjoying it. It's left me a bit wiped out in the brain dept, though, so I've suspended all blogging requirements from my sponsors until Christmas, and have stepped back a little from Catwa support until then. At that point the full-on training will be over and I'll have the mental 'space' to pick things up again. For now, when I log in I just want to mooch about, take the occasional pic, and just chill out.
Credits
Coat: Ascend – Cole Long Coat (Gianni, Jake, Legacy/Athletic)
Jeans: Butterscotch – Liam Jeans (Gianni, Jake, Legacy)
Hair: Wings – TZ1022 Hair (Ombre)
Gloves: ContraptioN – Dapper Dandy's Gloves (Gianni, Jake, Slink M, Maitreya)
Shoes: ArchiveFaction – Lace Up Derbies (black – Gianni, Jake, unrigged)
Earrings: Artificial Hallucination – Loke Rigged Ear Piercings (Catwa)
Skin: Birth – Miller (T1 – Catwa & BoM)
Brows: IDTTY Faces – Thick Eyebrows (Catwa, Omega, BoM)
Eyeshadow: Vice X Adored – Naked Shadows* (in the nude ed. – BoM)
Eyes: Avi-Glam – Elysian (fjord – Omega, mesh, BoM)
Head: Catwa – Skell* (Bento)
Body: Meshbody – Legacy
*review copy
Lastly, and as promised at the start of this post:
— Nathan W. Pyle (@nathanwpyle) December 4, 2020