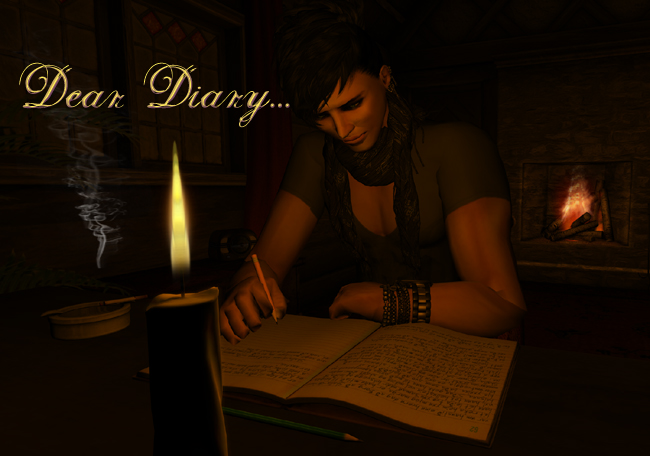 Dear Diary,
I have spent an insane  amount of money at the Arcade Gatcha today. I've been putting it off until the weekend, when I can log on in the early morning GMT (I figured it would be quieter then, and I was right; only 19 avatars present at the Arcade at that hour).
When I landed, I found this:
And, naturally, the last things to rez were the images of the prizes themselves, so I parked myself in an out-of-the-way corner and went to make breakfast. When I returned to the computer everything had rezzed and I was ready to spend.
And, by god, how I spent O.o
L$12,650
Holy shit. *koff*
Most of it was spent at Apple Fall (I've already blogged about how much I wanted everything in this set), Pilot (milk & cookies bar), Vespertine (autumn decor), Pixel Mode (spa bath set), Standby Inc. (coffee machines etc), Barnesworth Anubis (decorative wooden boxes), DECO (awesome 'legends' weapons), Art Dummy (beds and other furniture), MiaMai (cute plushie avatars), Half Deer (carved wooden animals & trees), Lark (imaginarium librarium), Baiastice (omg, the porcelain fairies!), Keke (homeopath medicine cabinet), and Trompe Loeil (I wanted every.single.lamp.dammit).
As you can see, I have what might be called a 'weakness for decor'. What can I say? *rueful grin* I have a ton of duplicates, which will first be given to Daros, and then I might list the rest in a blog post here, for people to claim. I can't join the trading group, as I'm maxed out on groups and don't want to drop any.
I left after an hour, as I was experiencing godawful texture thrashing (if you don't get that problem, be thankful; it drives me bonkers) and the sim was packed out by then. I was lucky to get out without my teleport failing. And, after all that spending, all I can say is: Holy shit, the creators who get into the Arcade must thank their lucky stars, because a whole month of L$ ringing in like that could set them up for the entire year!
In other news, the mini Lord of the Rings  'journey' that we appear to be creating down on the ground in Jindalrae has now been increased by the addition of The Prancing Pony. For those of you (Philistines!) that haven't read the series or seen the movies, The Prancing Pony is the tavern in Bree where the hobbits meet Strider. Since I had a Strider look already put together, and Daros had created a brilliant  little hobbit look, have a couple of pics:
"Excuse me, that man in the corner, who is he?"
"He's one of them rangers. Dangerous folk they are — wandering the wilds. What his right name is I've never heard, but around here, he's known as Strider."
I've also been re-reading Virginia Woolf's Orlando  this week, and it's prompted a lot of thought about gender, identity, and expression in Second Life; particularly the scene where Orlando meets Shelmerdine, and each realises that the other began their lives as the opposite biological sex and woke up one day simply… changed. Expect a 'thinky thoughts' post on all of this sometime soon, once I've let it percolate for a bit.
I'll close with two gorgeous fan-made compilations of scenes from Sally Potter's lush movie adaptation of Orlando, starring the incomparable Tilda Swinton in the title role, and an utterly fabulous turn from Quentin Crisp as Elizabeth I, whose birthday (Elizabeth's, not Quentin's) – incidentally – it would have been yesterday. Again with the unwittingly-synchronicitous ponderings, Dagger!
And this, which – despite the audio being slightly out of sync – I have  to include, simply because, well… Billy Zane as a long-haired Shelmerdine. Be still, my throbbing… yeah ;-)